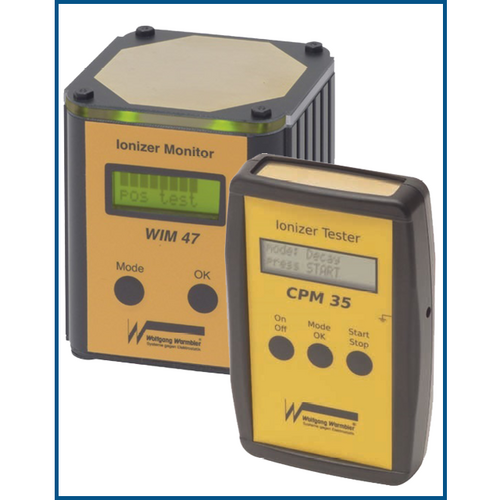 4/21/2023
New instruments
Maximize your ESD Protection with our new Ionization instruments!
Ionization has become an integral part of ESD protection in the workplace. Whilst we see the positive effects of ionisation we also see on a daily basis that they incorrectly installed. In order to ensure the airflow is strong enough and blowing in the correct direction to give optimal effect it is vital to test this on installation and periodically. In order to help with this we have two new instruments added to our range.
CPM 35
The CPM 35 Ionizer tester is a handheld device for quick and automatic checking of ionizers. It checks decay time and offset voltage with the press of a button. Ideal for cleanrooms, labs, and other controlled environments. Easy to use for professionals and beginners alike. Invest in the CPM 35 and ensure your ionizers are operating at their best.
WIM 47
WIM 47 is a innovative ionization monitoring system with alarm automatically monitors both decay time and offset values, ensuring that your ionized airflow is always functioning. Additionally, it can be set as a constant monitor, and if any obstacles block the flow of ionized air, an immediate warning signal will sound.